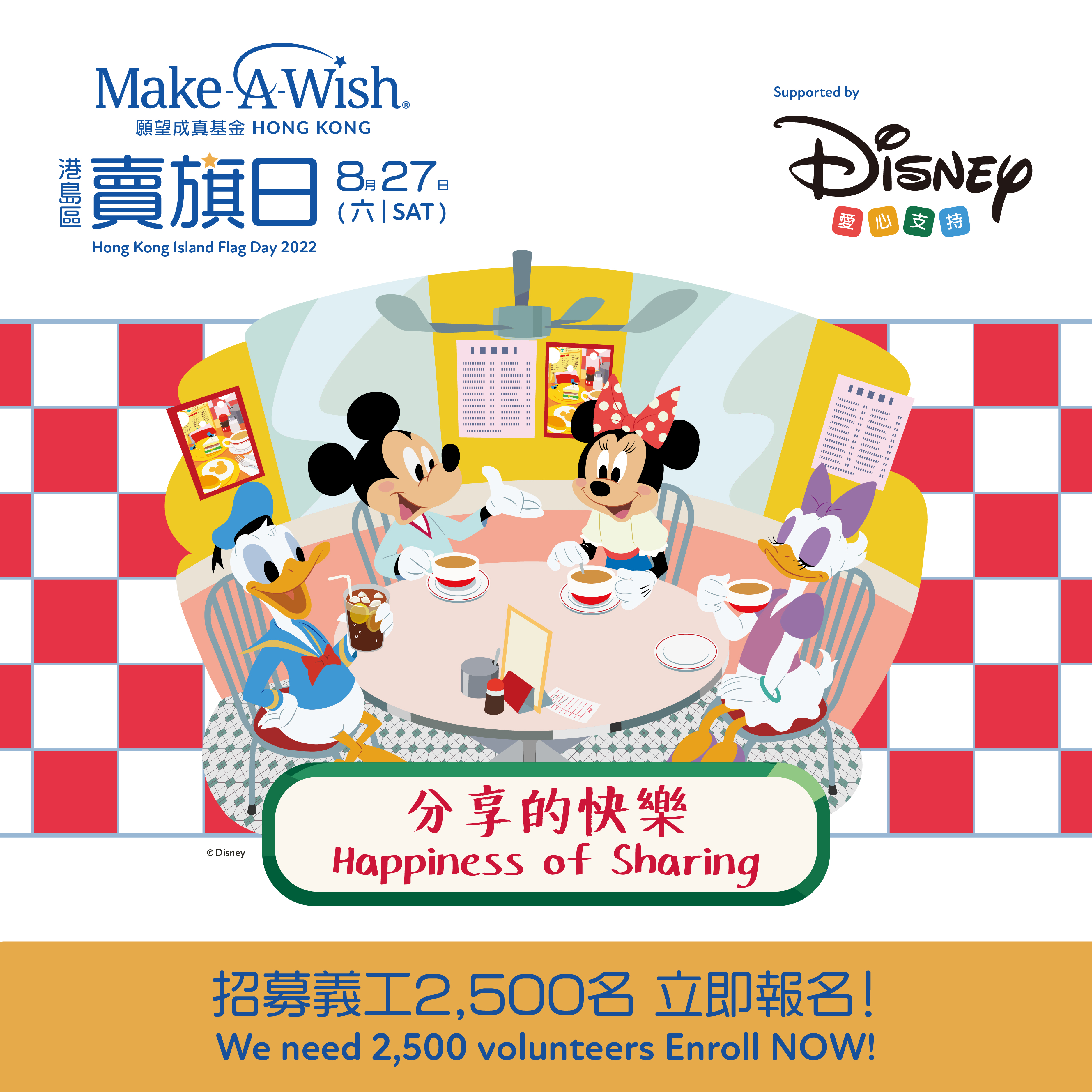 Make-A-Wish Hong Kong Flag Day 2022
MICKEY & FRIENDS themed Flags
Help Create Life-Changing Wishes for Children with Critical Illnesses!

Support Make-A-Wish Hong Kong's Flag Day 2022 on 27 August
Make-A-Wish Hong Kong ("the Foundation") will hold a flag-selling event on Hong Kong Island on 27 August (Saturday).The design of the flags is inspired by MICKEY & FRIENDS, who display happiness of sharing. Make-A-Wish Hong Kong aims to deepen the public understanding of the Foundation's mission and services in support children with critical illnesses by creating life-changing wishes that are going to bring a positive impact on these children and their families. With the flag design and the fundraising efforts, we hope to inspire and encourage our Wish Children, induce awareness of the importance of caring for children patients, and to raise a fund of HK$600,000.
Special Flag Sheet Design Featuring MICKEY & FRIENDS
The Foundation is thankful for the continuous support of The Walt Disney Company (Hong Kong) Limited. Inspired by the positive traits of MICKEY & FRIENDS, we are able to create a range of exquisite and beautiful flags for the event. With the theme "Happiness of Sharing" demonstrated by MICKEY & FRIENDS, the Foundation hopes to energize and inspire Wish Children to combat their illnesses with happiness and strength!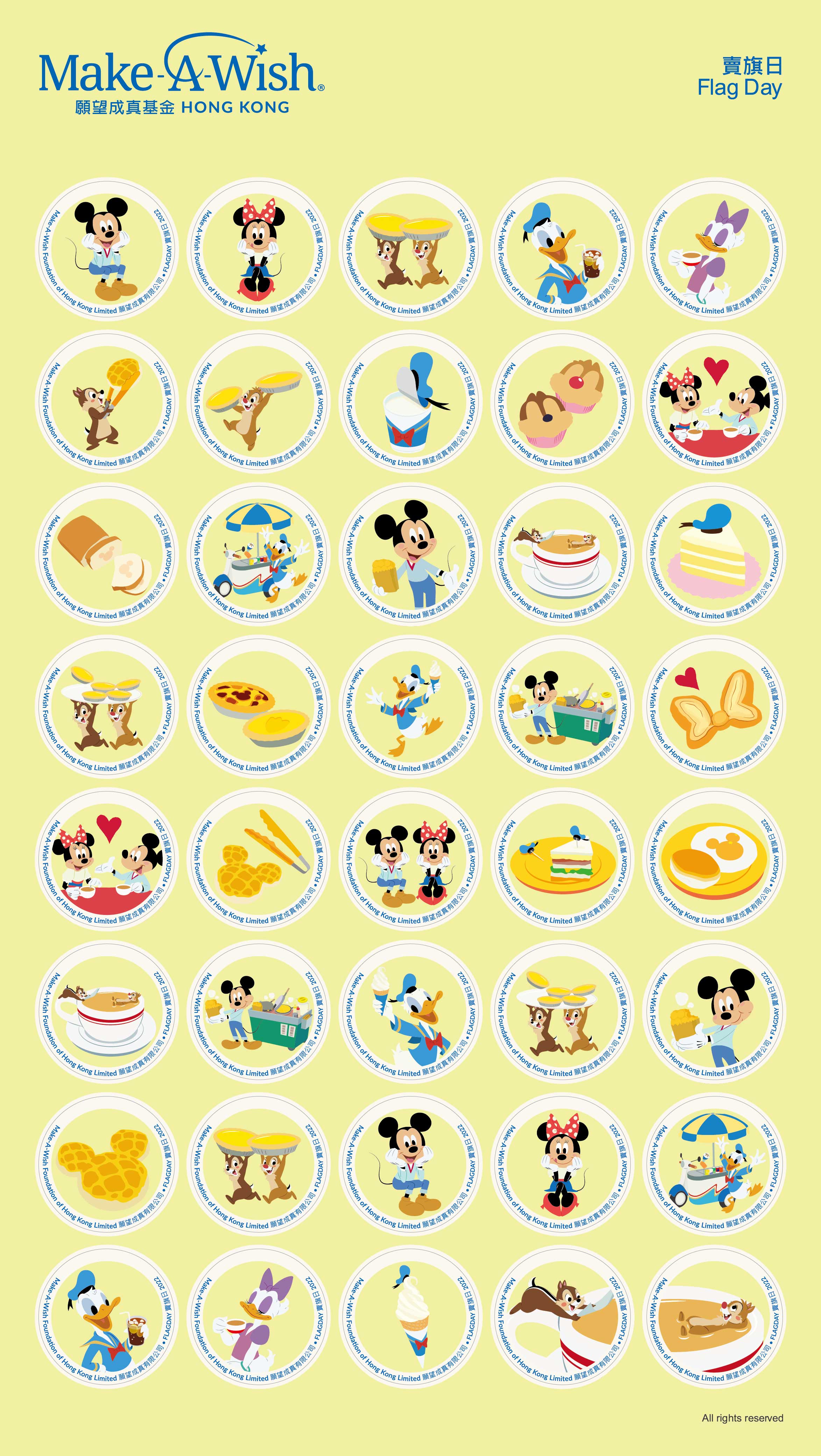 *Photos are for reference only
Join Us To Volunteer On The Flag Day!
We sincerely invite you to support us on our Flag Day and promote this meaningful event to families and friends.
Event Information
Date:27 August 2022 (SAT)
Time:7:00am – 12:00noon
District:Hong Kong Island Region (Public Areas)
*The Director of Social Welfare has approved Make-A-Wish Hong Kong to sell flags on Hong Kong Island region on 27 August 2022. SWD Public Subscription Permit No. is FD/R042/2022
We are calling for 2,500 volunteers to help with flag selling! Volunteers will receive a certificate of appreciation. Join us NOW to bring hope, strength, and joy to children with critical illnesses!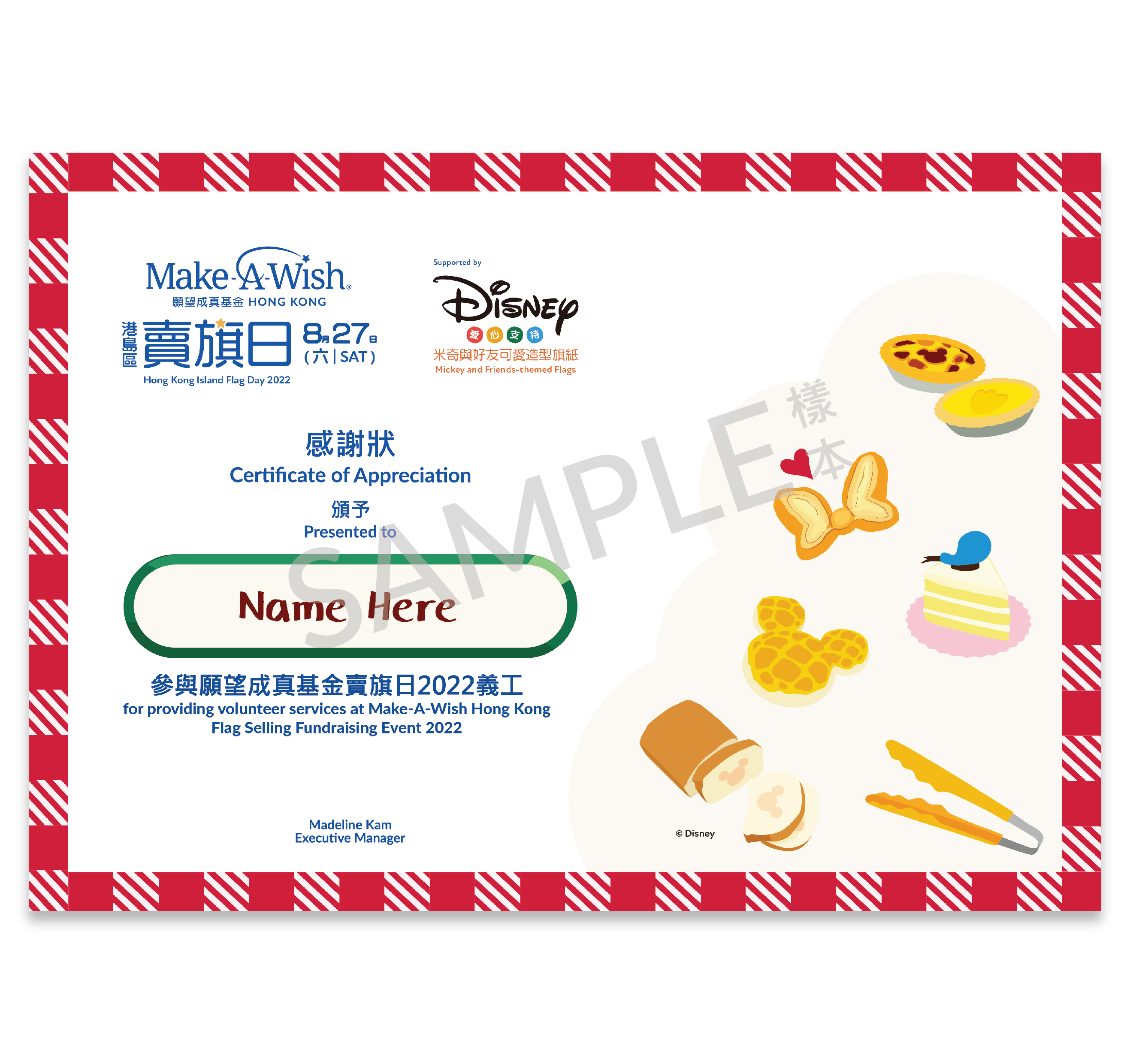 *Photos are for reference only
We welcome

families, organizations, schools and companies

to take part in this meaningful event.

*Parents or guardians must accompany children under the age of 14 to participate in flag selling.
Donate
Help create life-changing wishes for the Wish Children and bring them hope, strength, and joy!
Special Thanks To