Blink Gallery Charity Auction
Supported by Blink Gallery, a charity auction will be held to raise funds for realizing wishes of children with critical illnesses. Five artists, including POON Kwing-wing, Mediha Ting, YUNG Chee-mun, TK Chan and Bih Yeuk Nam, kindly donate their art pieces for the auction. From now until 10 September 2018, the art pieces will be exhibited in UPP Indoor Golf Bar in Central.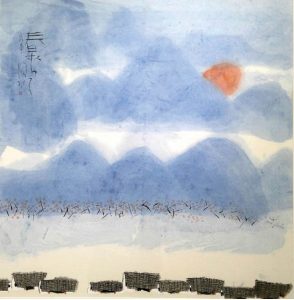 春來了 Spring Morning, POON Kwing-wing
68 x 69 cm | 2016
Ink and colour on paper
Suggested Value: HK$ 80,000
一片山在前立着,
遠遠羣山有序地排列座落,
不同的色彩不同的大小,
白雲輕輕地飄渺,
流水流淌而下,
天空掛著溫和的紅日…
讓你感受天地間的造化…
POON Kwing-wing graduated in Graphic Design from Hong Kong Polytechnic. He has participated in numerous local and overseas art exhibitions, and has won numerous awards including "Hong Kong Ten Outstanding Professional Youth of the Year" 1985, "Artist of the Year for Photography" 1988 , "Martell Artist of the Year" Shanghai 2005. He was art professor at the University of Jinan in 2013. He used his camera to capture people and scenes for over 30 years.
Now he uses his hands and ink brush in these landscapes to express his feelings for what he has seen.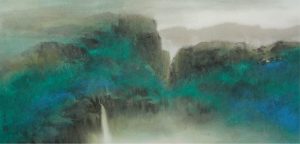 春灑 Spring Spray, YUNG Chee-mun
33 x 69 cm | 2018
Ink and colour on paper
Suggested Value: HK$ 45,000
穀雨是春季的最後一個節氣,
秧苗初插、作物新種,
最需要雨水的滋潤,
恰好此時的雨水也較多,
大地滋潤,充滿生機。
YUNG Chee-mun, grew up in Hong Kong. He obtained a Diploma in Chinese Painting from HKU SPACE, Bachelor of Arts in Chinese Humanities from OUHK, and also studied calligraphy and seal engraving under with Master Ou Dawei, ink painting under with Master Hung Hoi. Simon has participated in numerous local and overseas art exhibitions, and has won numerous awards in different art competitions including "Hong Kong Contemporary Art Awards 2012", "Beyond the Surface~Chinese Abstract Art 2008″, Philippe Charriol Foundation Art Competition 2006" and "Hong Kong Art Biennial Exhibition 2005". His works are collected by the Hong Kong Museum of Art, enterprises and private collectors. His painting was sold on Ravenel Spring Auction 2017。 In 2017, he is being selected in "Ink Global Top 500".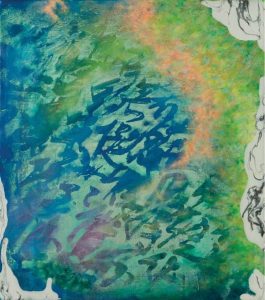 鑲金之藍 Cobalt Peridot (睿光系列 Ray of Light series), Mediha Ting
38 x 33 cm | 2017
Acrylic and Chinese Ink on Canvas
Suggested Value: HK$ 38,000
作品從遠處看,會看見第一層的顏色和抽象形態;靠近一點看,可以看到背後不同層次的細節,當中以水墨來畫出的城市的天際線、景觀及社會活動。如果有自然光線射在畫上,顏色層次會反射不同顏色的光;如貝殼裡七彩的光與顏色。再配以佛教《金剛經》,以「空性」給人安靜、除去負面的情緒,捕捉「光」正能量的意境。
希望能呈現愛與和諧的感覺,以平衡社會上的紛爭與相異– 這大概是我們在這時代、這城市中最需要的。盼望這作品可以啟發各位尋找、珍惜和擁抱你身邊的每一道光。
Artist Mediha Ting is a Belgian born artist who grew up in Hong Kong in a Taiwanese-Muslim household. She later received her higher education in the United States and England, at institutions including the University of the Arts
London (Byam Shaw). After twenty years of working in the art world in London she returned to Hong Kong. Consequently, her art speaks with a unique angle of multi-culturalism, and has been described as "embodying a powerful feminine spiritual energy." Ting's diverse background and upbringing along with her overseas experiences
nudge her to examine perceptions of cultural identity, the interplay of relationships between one's inner world, the urban environment in relation to the natural environment, and states of consciousness and the subconscious.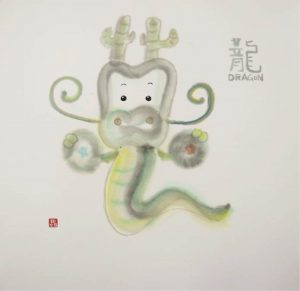 Dragon, TK Chan
65 x 65 cm | 2017
Ink and colour on paper
Suggested Value: HK$ 13,000
TK Chan began her Chinese ink painting series in winter 2016 under the encouragement and guidance of established artist POON Kwing Wing (Water POON). Inspired by the round cuteness of her own pet animals, she sought to
capture these lively qualities with the movement of her ink brush and the colour ink wash of her images. Her animal paintings have been described as embodying happy feelings of love and caring. All life was precious; that we need to treasure life, every little bit of it, including not abandoning or killing sick animals & ourselves not succumbing to thoughts of hopelessness & suicide. It meant seeing new beauty in adopting & nurturing our pets. In this Animal Family Collection, she wished to convey that Home is one of the important element in Chinese Society since ancient time. In TK's collection you can find: Children are nurtured, Adults are supported to contribute, Elderly are cared for.
This animal collection was first shown at INK ASIA art fair in December 2016 in Hong Kong where her fresh contemporary ink style, received much attention from the local media & from established Chinese ink painters. In 2017 she was one of the finalists for the Finalist of the Entrepreneurial Award, Alumni Awards 2017 – organized by the British Council, Hong Kong. Her painting 'Rooster Family and Happy Dog' were selected at 33 Auction, Singapore in 2017 and 2018.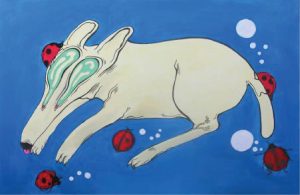 童真 Innocence, Bih Yeuk Nam, Evelyn (Wish Alum. in 2010)
30 x 60 cm丨2018
Acrylic on Canvas
Suggested Value: HK$ 13,000
狗隻和瓢蟲休閑地依靠在一起,時間仿佛會因此緩慢流動讓自然童真保存在一起。
Bih Yeuk Nam, Evelyn is our Wish Alumni. She is a Hong Kong artist. She is studying the Associate Degree of Visual Arts at College of International Education, HKBU. She has won numerous awards including " Hong Kong Outstanding Visual Art
Student Awards 2016", "Best Outstanding Student Artist Award of Hong Kong 2017".
Exhibition:
UPP Indoor Golf Bar
402C-E Shun Tak Centre West Bridge, 200 Connaught Road Central, Sheung Wan, Hong Kong
If you are interested, please email to marketing@makeawish.org.hk .
For any enquiry, please contact (852) 3101 9688。
Supporting Organization: Blink Gallery and UPP Indoor Golf Bar