"I Wish to Be A Pilot"
– Nok-him, 10, Acute leukaemia
10-year-old Nok-him wants to be a pilot.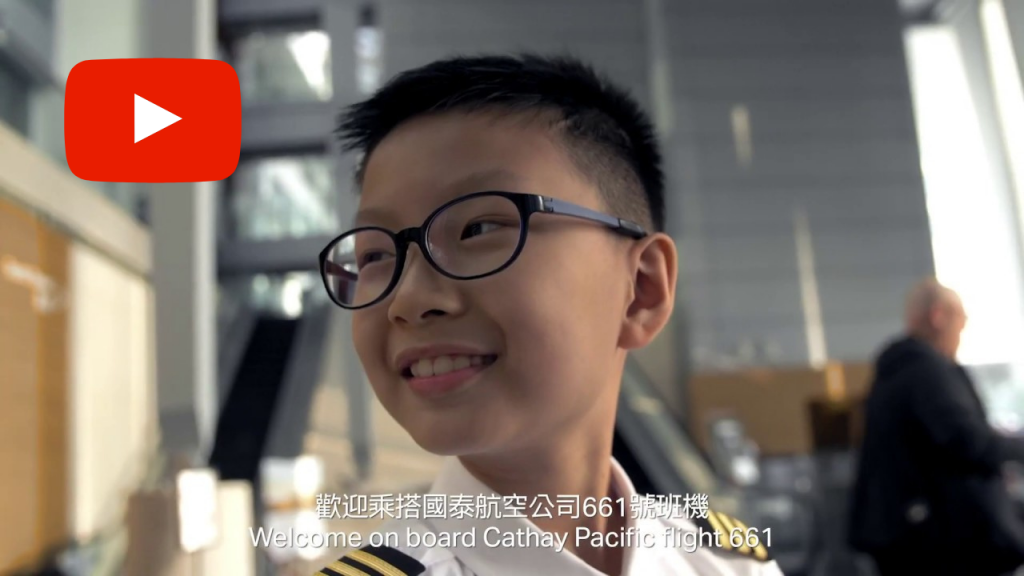 Nok-him's story started with a train.  Growing up in Macau, he likes all sorts of mechanical things; to him, the train is the biggest and most beautiful.  He wanted to drive trains, but things took a different turn the day his mom found a lump in his rear while bathing him.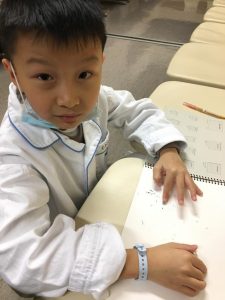 Learning to fly from the sickbed
Nok-him was diagnosed with acute leukemia after a thorough examination.  He was then taken to Hong Kong for treatment.
His mother recalled, 'For the next two years, Nok-him stopped going to school because of his treatment. We had to commute between Hong Kong and Macau.  He was allergic to some medications, threw up sometimes, and had lost his appetite. He's tired all the time and all we could do was to stay with him. He didn't complain, nor was he despondent.  We were so relieved when he finished the treatment which took quite some time.'
Nok-him said he remembered well how it hurt when he was given a pain-killer shot – the syringe was a big one – so later he skipped the shots and took medications directly.  Nok-him impressed his parents and many others with his courage.
While he was ill, Nok-him found a new interest.  Without school, he read a lot and came to find out about planes engines, which are bigger and more sophisticated than that of a train!  Nok-him falls in love with planes and wants to be a pilot.
A Wish that brings a sense of purpose to get through the days
Nok-him kept reading about planes and made drawings of different models.  'My favorite's Boeing 747 because she's the biggest and the best', he said. He also made drawings of the cockpit, down to the last detail.  It took him about a week to finish one, spending several hours on it each day.
Actually Nok-him had never set foot in a cockpit, all the details came from his impression and memory from looking at it from the passenger cabin, and research from books and online sources.  It takes patience and more importantly, perseverance and curiosity for him to do those pieces of art.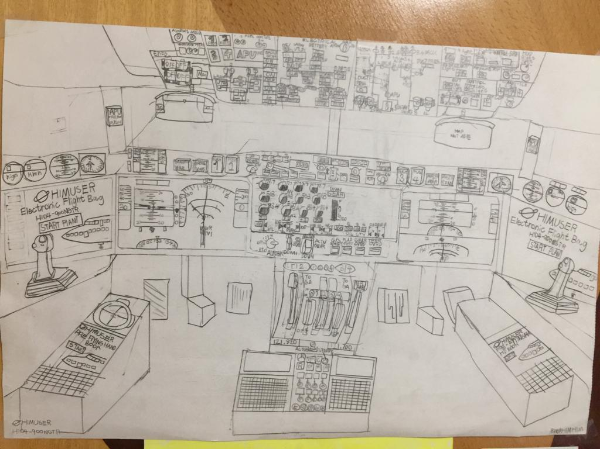 Being moved by Nok-him's determination, we soon decided to help – it was also the first time we granted such a wish.  With the support of Cathay Pacific Airways Limited, the plan to help Nok-him went ahead.
Despite his illness, Nok-him was very brave.  He also continued to work hard to become a pilot. We want to help him grant this Wish, bring him hope, and encourage him to pursue his goal by overcoming the challenges ahead. –Wish team
Into the cockpit
On Nok-him's Wish Day, he and his family came to Cathay City. Receiving an appointment certificate from Cathay Pacific's Flight Training Deputy Manager Joe Fung and putting on a tailor-made pilot uniform, Nok-him's Wish came true!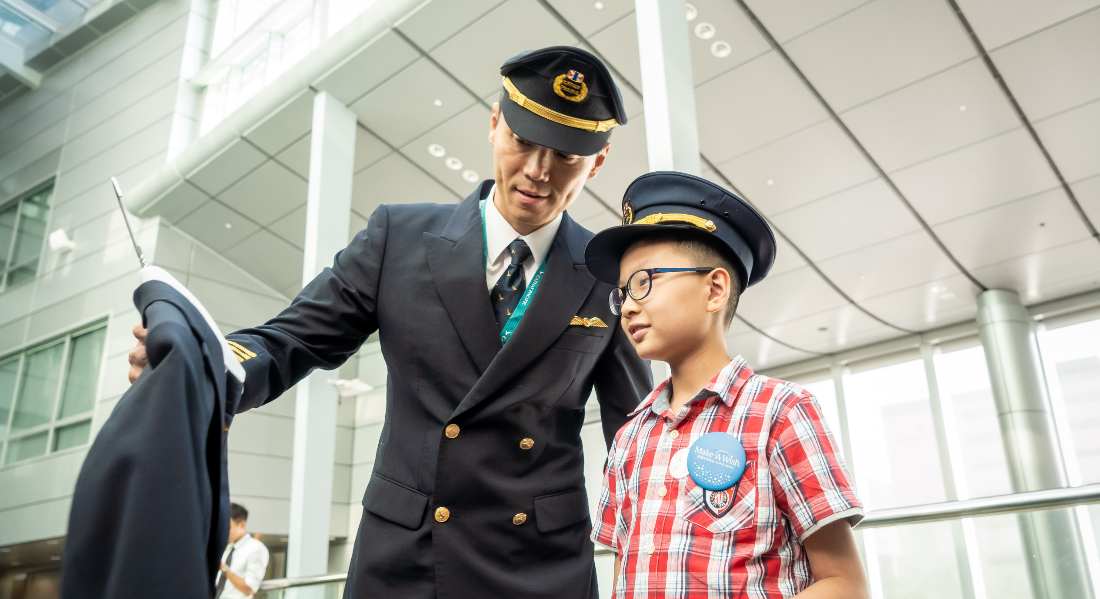 The day started at Cathay City's training centre.  Despite the fact that the family had to travel from Macau and start out early these mornings, everyone was in good spirits.   Cathay Pacific staff began by explaining the safety precautions on a flight – Nok-him took everything in quickly, even his parents and brother found it interesting. When asked if they're worried if Nok-him's going to be tired, the parents said they're confident that he's going to make it, as long as he's interested. 
Coming up next is where Nok-him likes best – a flight simulator.  'You're about to be the pilot of a Boeing 747', Flight Training Chief Dave Lohse told Nok-him.
Nok-him had gone through many photos and videos of the cockpit, and made so many drawings of it that when he's inside a real one, the feeling is familiar.  He 'flew' his family between Hong Kong and Macau and showed such expertise when landing and take-off that Joe said he thought Nok-him had done it before.
A pilot would receive a certificate and a badge after completion of training, the same went for Nok-him.  He received the certificate from a director of Cathay Pacific, then a badge on his lapel, followed by a salute to each other.  In front of such a senior person who speak only English, Nok-him held his own, politely said thank-you, and shook hands with him.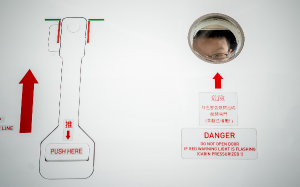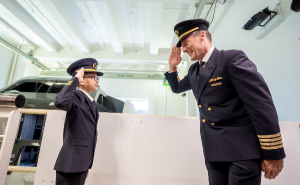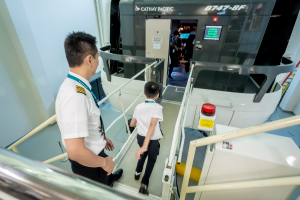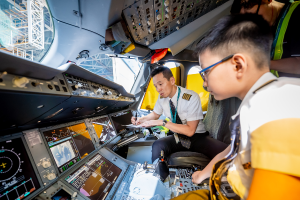 Having to communicate with a pilot and to deal with sophisticated mechanics, Nok-him was not at all intimidated, but stayed active and focused.  He said, 'I want to be a pilot because I want to explore and master the complex mechanism in the cockpit.'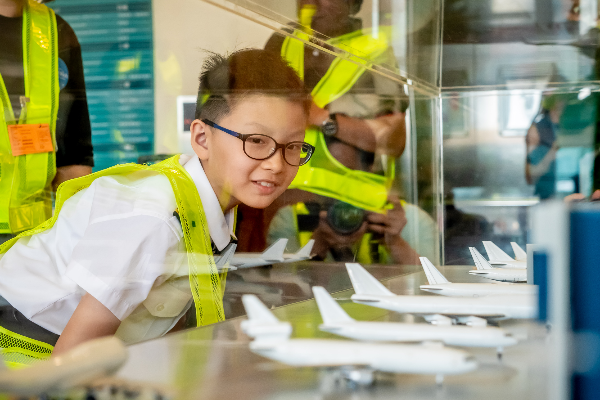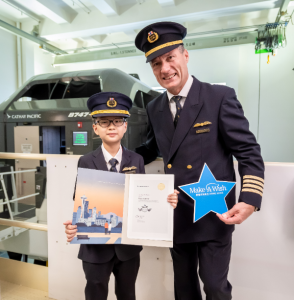 Climax of a perfect day
Then comes the time when we boarded a real plane! We arrived at the aircraft apron and boarded an airbus A350-1000.
Inside the cockpit, Joe explained to Nok-him the things to look out for, such as navigation, weather conditions, the control panel features, and how to read the reports; Nok-him took everything in, making Joe was all the more enthusiastic so he could teach his student more.
As Nok-him's teacher and a veteran, Joe said his student has what it takes to be a pilot, adding 'Nok-him is very smart and focused.  Despite his age, he is considerate of the people around him. I hope he'd keep to his passion and work hard to achieve his dream. I'm sure if he'd got it someday, no matter how difficult it's going to be.'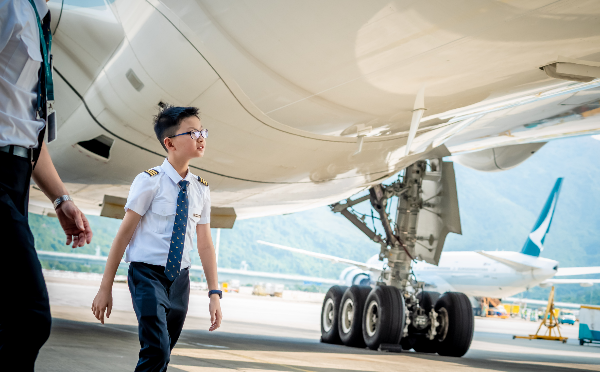 Greater determination in the days ahead
Encouraged by Joe, Nok-him put on the speaker and said to all onboard:  'This is your pilot Chan Nok-him speaking, welcome on board CX flight 661, I wish you a pleasant flight', that completed Nok-him's last task of the day.
From this Wish Day's experience, I came to know it's not easy to be a pilot, it's difficult, but I'll keep trying in order to fulfil my wish to be a pilot – I'll fly my parents and brother to Japan one day! –Nok-him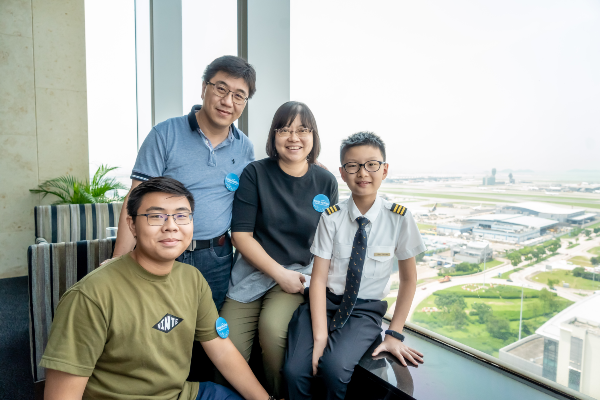 We thank Make-A-Wish Hong Kong and Cathay Pacific Airways Limited – everything went beyond our imagination and we're so moved and happy, it's such an unforgettable experience! –Nok-him's mother
Acknowledgment: Cathay Pacific Airways Limited, Hong Kong Aircraft Engineering Company Limited