I want to have a pink room!
Zoe, 8, Right Frontal Lobe Atrophy Temporal Tumor

[Many children dreamt of having their secret place!]
A unique room incorporating the kid's favourite cartoon character elements is even more coveted. Upon learning that Zoe would soon be moving into a new home, she wished to have a pink-themed room with elements from her favourite movie, Frozen.
During the wish design process, Zoe expressed her love for pink and wanted to include the blue colour representing Frozen in her room. In addition to being a place for her to study, she hoped the room could be a place for her and her mother to rest and chat. The Wish Team noted Zoe's preferences and ideas, so they worked closely with the designer to create a comfortable and practical room customized for Zoe. During the production, Zoe was patiently and excitedly anticipating her wish.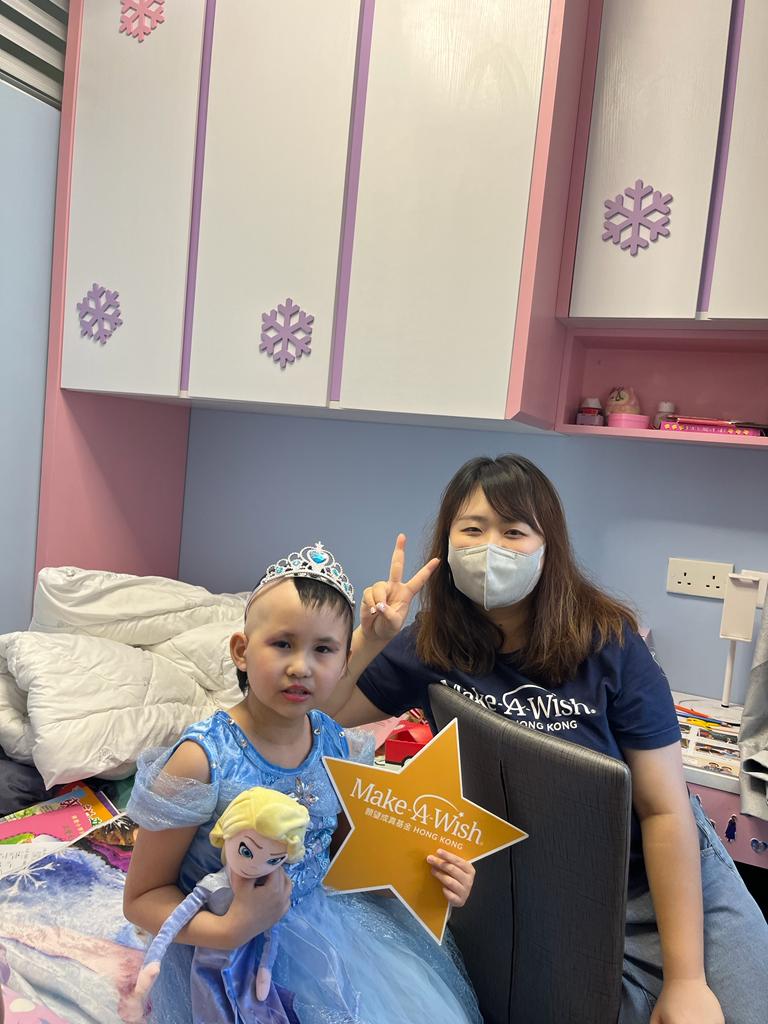 After rounds of design modifications, material selection, and production, her new room was finally ready two months later. To celebrate Zoe's Housewarming party, the Wish Team specially prepared themed costumes and a makeup box for her. When Zoe saw the Frozen snowflake decorations and paintings in the design drawings for the first time, she was already looking forward to dressing up. After putting on her princess dress and makeup, Zoe made DIY decorations with the Wish Team to transform into a princess and welcome her new home!
Zoe was thrilled to see her new room with all her favourite colours, decorations, and design. Her favourite parts were the desk and bookcase near the window, allowing her to do her homework and play in the sunlight. That's so relaxing!
Zoe's Wish has been fulfilled by the support of Jockey Club Wish Planet Project, which is funded by The Hong Kong Jockey Club Charities Trust.